Product Description
MASS LEAN GAINER
Warrior MASS has been designed to support awesome gains in muscle, strength and mass. If you're an MMA fighter, boxer, rugby player or train aggressively to get REAL results from your body, Warrior MASS is for you!
18 Super-Charged Servings!
Incredible Flavours!
Incredibly advanced lean mass gainer
Genetically Modified Free
Vegetarian
Ingredients
Facts
18 Servings
(Servings Size: 2 Scoops (280g))
Ingredients Per Serving
280g
Supplement Facts:
Servings Size: 2 Scoops (280g), Servings Per Container: 18 (5.04kg)
Nutritionals Per 280g Serving: Energy (kcal) - 1059, Energy (KJ) - 4433, Protein - 61g, Carbohydrates - 180g, of which sugars - 47.5g, Fats - 9.3g, of which saturates - 2.6g, Fibre - 4g, Sodium - 0.4g
Nutritionals Per 100g: Lean Carb Blend (Fine Milled Scottish Oats, Waxy Maize Starch, Maltodextrin), Premium Protein Blend,(Whey Protein Concentrate [Milk], Micellar Casein, Milk Protein), Peptide Bonded Glutamine (Wheat), Flavouring, Sweetener (Sucralose).
Allergen Warning: Contains Gluten. Produced in an environment that produces Milk, Egg, Soy, Wheat, Peanuts and Nuts.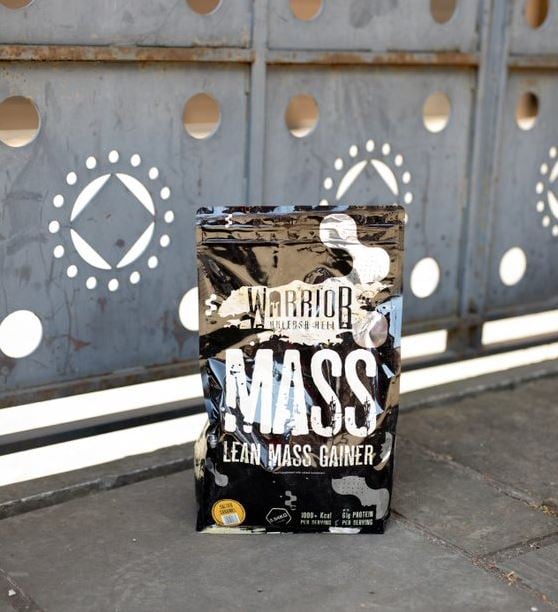 THE WARRIOR® ETHOS
Warrior® was created with a single purpose in mind – a single, solitary goal. To bring to market the best sports supplements in the world, and improve the athletic performance of those who consume them. We want to help those dedicated athletes who leave everything on the battlefield and strive with each training session….to become the best that they can be.