Product Description
DIET BAR
Warrior Diet Bars are a decadent triple layered, irresistible combination of a soft, cake like inner, a delicious caramel layer all encased in tasty low sugar chocolate. These incredible bars contain a huge 20g of protein, just 1.5g of sugar, and 4.1g of healthy fibre. Coming in at just 184 calories, these are not to be missed for hitting those cravings, for any kind of diet.
12 Bars
Soft Cake Like Inner!
Gluten Free
Genetically Modified Free
Ingredients
Ingredient
12 Bars
(1 Bar)
Ingredients Per Serving
55g
Serving Information
1 Bar (55g), Servings Per Box - 12 Bars
Nutritional Values Per 55g Bar: Energy (kj) - 780 Energy (kcal) - 184 Fat - 3.9g Of which saturates - 2.5g Carbohydrates - 18.3g Of which sugars - 1.5g Of which polyols - 15.7g Dietar Fibre - 4.1g Protein - 20.3g Salt - 0.26g
Ingredients: Protein Blend [Milk Protein Isolate, Soy Protein Isolate], Hydrolysed Collagen, Whey Protein Isolate (Emulsifier: Sunflower Lecithin)(Milk)], White Chocolate with Sweetener [Sweetener (Maltitol), Cocoa Butter, Whole Milk Powder, Emulsifier (Soy Lecithin), Natural Vanilla Flavouring], Humectant [Glycerine], Low Sugar Caramel [Humectant (Glycerol), Maltodextrin, Oligofructose, Water, Bulking Agent (Maltitol Powder), Coconut Oil, Skimmed Milk Powder, Modified Waxy Maize Starch, Colour (Caramel), Gelling Agent (Pectin), Acidity Regulator (Calcium Lactate), Emulsifier (Soy Lecithin), Salt, Natural Flavourings, Thickener (Xanthan Gum)] Soluble Tapioca Fibre, Sweetener [Maltitol Syrup, Sucralose], Water, Freeze Dried Strawberry Pieces (1.1%), Natural Flavourings. Nibbed Peanuts (Peanut Caramel Flavour only)
Contains Milk, Soy and Peanuts (Peanut Caramel Flavour), Produced in a facility that handles Gluten, Soy, Peanuts and Nuts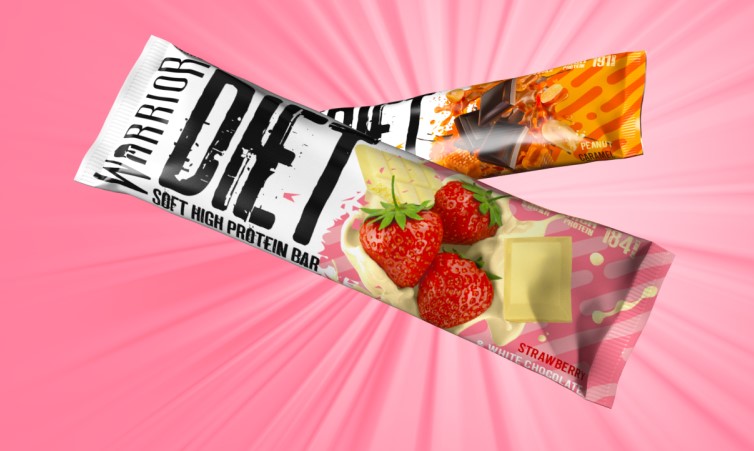 THE WARRIOR® ETHOS
Warrior® was created with a single purpose in mind – a single, solitary goal. To bring to market the best sports supplements in the world, and improve the athletic performance of those who consume them. We want to help those dedicated athletes who leave everything on the battlefield and strive with each training session….to become the best that they can be.